The Gate Towers in El Alamein City Edge
The Gate Towers are truly the gateway to the New Alamein.
Standing as two guardians split by a road that leads straight to the shore, The Gate Towers are a grand welcoming gesture;
acting as the first entry point of the city to the Mediterranean Sea and Egypt's North Side.
North Edge is located just 54 km from Alamein International Airport, 89 km from Borg El Arab International Airport, 107 km from Alexandria and 184 km from Marsa Matrouh.
The future starts in the new city of El Alamein where the first phase of luxury villas is launched on a private beach in the compound,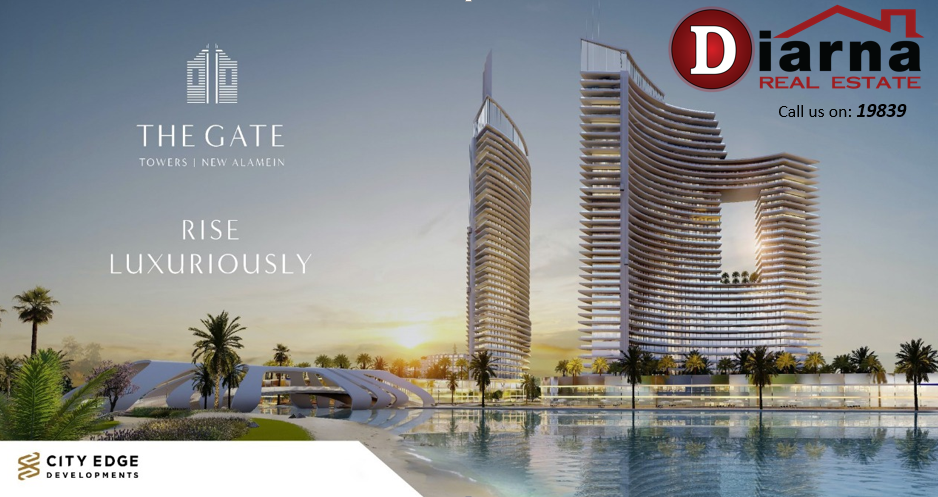 THE GATE  Facilities
The towers include restaurants, a commercial mall, swimming pools, a 7-star hotel and cinema,Lagoons,Lakes,International Spa,Hospitals and HEALTH CLUB
The project consists of 5 towers divided into 40 floors with the latest living standards in units overlooking the charming beaches.
All residential units in the towers area are fully finished
with different types and sizes.
There are apartments and chalets with spaces ranging from 194 meters to 387 meters.
with 5% Down Payment and Installments Up to 7 years
For more information, please call
01210001171 – 19839
The Gate Towers New Alamein City Edge
New Alamein City, North Coast The Gate
Visits :
6427 in 1571 days
9,700,000 جنيه Unit Price
Listing Type :
For Sale by developers
Price :
9,700,000 جنيه Unit Price